The Atari 8bit home computer version from Big Five released in 1984, written by Bill Hogue.
Unlike the C64 release, the Atari computer release got its very own big box. It had green sides instead of the blue found on the Atari 5200 release. At least some came packed with a free original Miner 2049er and manual. There was a sticker on the front with the news.
It's a common myth that the 5200 and Atari 8bit home computer versions are identical. That is not quite true. The computer version is slightly more difficult — some of the platforms are smaller.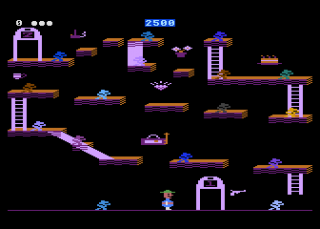 The 5200 version is above. Check out the two platforms to the right of transporter 2. They are two "bricks" wide. Now check out the Atari home computer version below. They are only one brick wide.